Our philosophy is "Fishin' is the Mission"
The mission statement of the Charter Boat Lady Em is to provide the best fishing trip possible, to try our best to catch fish, have a good time and come home safely. We want to provide memorable fishing while you are here in Destin.
Having a good boat that is very well maintained, top notch tackle and a Crew of trained professional fish killers is a bit part of the winning combination. The Capt. and Crew of the Lady Em have the right attitude to take care of their fishing clients and families.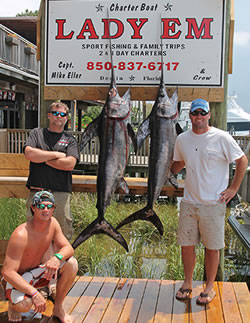 Captain Mike
Captain Mike is honest, knowledgeable, friendly, entertaining, ambassador to the area, community oriented and a damn good boat captain. He understands that some of his clients want a very energetic, fast-paced atmosphere while others just want to relax and enjoy their time on the water.
With Capt. Mike you can rest assured that no one will try harder to provide a successful day of fishing. He is always willing to go the few extra miles and use any method or means necessary to ensure a productive catch.

Charter Boat Lady Em - Deep sea charter fishing in Destin, Florida.