The LADY EM is a 65 ft custom G&S sport fisherman that was built to offshore charter fish in Destin, FL.
It has been designed to fish offshore and handle any weather conditions with up to 20 passengers.
The LADY EM is a very big and very nice sport fishing charter boat. It is designed with a 20 x 20 ft fishing deck that gives lots of fishing room no matter how many people you have in your group. We have an outdoor seating area on the back deck so that you can take a break but still be on the back deck and in all of the action. The custom fish boxes and live well are designed to give maximum fishing space on the back deck, while being efficient and good looking.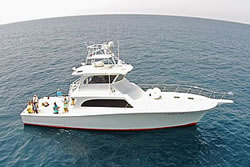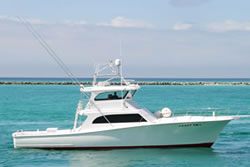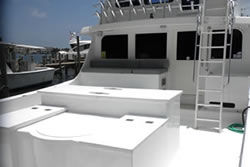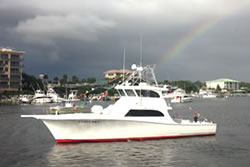 It's Big, Bad and a Fishing Machine. Customize Designed to Fish Anywhere in the Gulf Under Any Condition.
As Capt. Mike says: "Lady Em IS the big mac daddy of Destin charter boats."
A new pair of Cummins QSM11 600 horsepower engines provides plenty of speed and power, without excess diesel fumes or exhaust smoke.
"There's a large comfortable cabin with cold air conditioners, satellite T.V., DVD player, a full galley and lots of bunk space to relax on the way out and the trip back."
The LADY EM is in the top 2% of charter boats in the Destin Harbor. It is very big, very nice and very comfortable. It has a full bathroom and shower and lots of room for a large group.
"A tremendous amount of work goes into our boat to ensure it is safe and up to any job we throw at it. We want to get the job done in style and not have any breakdowns to slow us up or get in the way of our customers fishing trip. We built this boat to handle offshore conditions and get us out and back safely and in comfort."
"We like a good clean fishing boat that is a pleasure to fish on and can take us anywhere anytime. This is "the" boat for 2-3 day offshore tuna and sport fishing trips as well as 2 & 3 day live bait bottom fishing trips."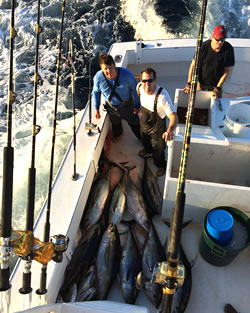 Tackle
"On the LADY EM we use all professional Penn & Tiagra tackle. It's tough enough to handle the abuse we give it."
All custom built rods for both light tackle sport fishing and big fish down deep; monofilament and the right knot will get the job done. "It's worth it to take the extra time to make sure the tackle is 100% every day. You usually only get one shot at a monster trophy fish and tackle failure is not an option."
"We have both been doing this long enough to know what not to do. Half assed tackle will only let you down when you need it the most. You will catch all the little ones, but it is that one bite that you are looking for and that is when everything has to be right."
"Do it right the first time and you stand a fighting chance of landing that big fish."
As far as overnight, 2 & 3 day trips go this is "the" boat for offshore tuna and marlin sport fishing trips and live bait bottom fishing. Call us at 850.837.6717 or
click here to contact us.