On our swordfishing charters we are approx 55-70 miles off shore of Destin in 1200 to 1600 ft of water.
We sword fish in two different ways. We run our sword fishing charters on our 2 day & 3 day trip or we can swordfish and marlin fish on a 24 hour trip.
We try to arrive on the fishing grounds around dusk and get set up to drift on a parachute (sea anchor) all night long while we swordfish. We run 3-4 lines from the surface to 300-400 ft down using underwater lights and big baits.
Swordfish are awesome, mean, they are strong, and are good to eat. It's big game fishing! Big gold reels, stand up tackle, full body harness.....just you and the fish. Swordfish might jump right next to the boat and the next moment diving down 500 ft. The sword makes a great mount or trophy and actually do look like a big sword.
We will often catch tunas, sharks and other species of fish while we are sword fishing. When the conditions are slick calm, fishing at night is a real adventure.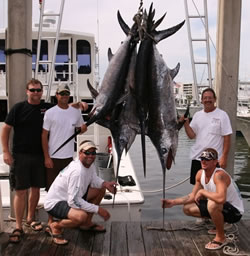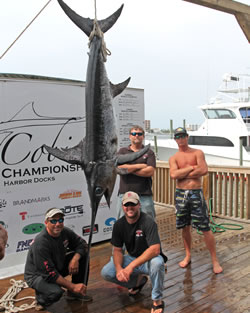 Our 24-30 hour Swordfishing Trip
This is basically a 24 hr trip that leaves at noon and returns by noon the 2nd day.
This a swordfishing & trolling only trip. Boat leaves the dock around noon on first day and travels 65 miles offshore of Destin trolling for wahoo and black fin tuna on the way out. The boat will arrive on the swordfishing grounds around sunset and set up for a night of drift fishing for swordfish in 1,400 feet of water.
We turn on the underwater lights and fish until daybreak. Lines in after sunrise and head back to Destin trolling the entire way. Typically arriving back at the dock by noon the second day. We can stretch the trip out and also do some bottom fishing on the way home on the 2nd day.

This trip is priced from $3,600 to $4,500 (depending on month and date) for the 24 hr swordfish only and $5,400 if we stretch the trip out to 30 hrs and bottom fish our way home on the 2nd day.