The charter boat Lady Em offers several different types of deep sea fishing charters in Destin, FL. We have 1/2 day trips that are 4, 5 or 6 hours and all day fishing charters which are 8, 10, 12 & 14 hours in length.
ALL of our fishing trips are considered deep sea fishing. Some of the trips we bottom fish and some we troll. Most of the time we do both. We will cater to the 4 hour fishing trip the same as a 12 hour fishing trip.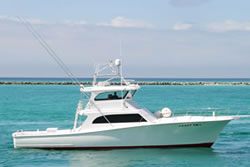 Half Day Charters
4 - 5 hour: We travel 1-7 miles and you can see the shoreline the entire time. We mainly troll for mackerel or bottom fish depending upon the bite and season.
6 hour: We travel 15-18 miles, more bottom fishing for snapper, troll for kings and wahoo. The seasonal fishing is detailed on Fishing Trips page.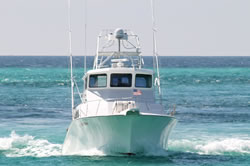 Full Day Charters
8 hour: 20 miles, mackerel, wahoo, snapper, smaller grouper.
10 - 12 hour: 20-50 miles, amberjack, grouper, snapper, trolling for wahoo, mackerel, mahi-mahi....whatever is biting.